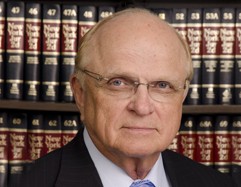 Robert L. Burkwit
Attorney Robert L. Burkwit, of counsel, has been actively practicing law in Rochester, New York since 1962. Bob is a graduate of Aquinas High School, St. John Fisher College and Syracuse Law School. He served as Attorney for the Village of Webster from 1974 through 2006. Bob has also practiced law in all regional Justice, County and Supreme Courts, Appellate Division, Court of Claims, Federal District Court and Bankruptcy Court. He has represented thousands of clients during his career encompassing numerous areas of law.
Bob also has an extensive trial and courtroom practice background which extends throughout Western and Central New York. He has a general law practice with concentration in the areas of real estate, business, estate planning, family law, personal injury, municipal law and criminal law.
Bob is admitted to practice law in New York, United States District Court for the Western District of New York, Supreme Court of the United States and United States Bankruptcy Court for the Western District of New York. He is a member of the Monroe County Bar Association, Wayne County Bar Association and New York State Bar Association.