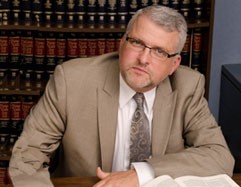 Charles F. Burkwit
Attorney Charles F. Burkwit became licensed to practice law in Michigan in 1996 and in New York in 1997. Charlie is a graduate of McQuaid Jesuit High School, Niagara University and University of Detroit Mercy School of Law. He has practiced in all regional Justice, County and Supreme Courts, Appellate Division, Court of Claims, Federal District Court and Bankruptcy Court. His courtroom practice and experience has extended throughout 20 counties in Western and Central New York. He has represented over 1,500 clients in personal injury cases and is an experienced trial attorney, having tried over 100 cases during his 20 year career.
Charlie has obtained millions of dollars in settlements and/or verdicts for his personal injury clients. He also practices in the areas of civil rights/police brutality litigation, real estate, business, estate planning, family law, municipal law and criminal law.
Charlie is admitted to practice law in New York and Michigan, United States District Courts for the Western District of New York and Eastern District of Michigan, United States Court of Appeals for the Second Circuit, United States Bankruptcy Court for the Western District of New York. He is a member of the Monroe County Bar Association, Wayne County Bar Association, New York State Bar Association and State Bar of Michigan. He is also a volunteer fire fighter and Fire Commissioner for the Pultneyville Fire Department.